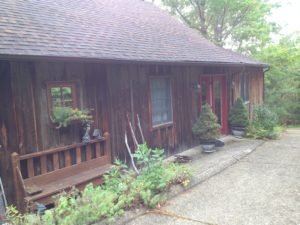 Did you know that black bears don't growl? Me neither!
Last fall, Joe and I went for a hike in Shenandoah. We chose a spot that was pretty far off the beaten path, because we had been lamenting how crowded trails are close to DC. Weekends on the trail are starting to feel like spring break. Don't misunderstand. I'm grateful more and more people are appreciating the outdoors, but truly escaping into the wilderness is becoming harder to do. If you have tried to visit the madness that is Sugarloaf Mountain on the weekends in the last year or so, you have an idea of what I mean.
Timing our trip with colorful fall foliage, we headed out to High Laurel Inn in Grottoes, Virginia. The room was nice and quiet, set onto a hill facing the woods. The owners are story tellers in the best way and cook up a delicious breakfast. We got our first taste of what to expect in the wilderness from the owners, who told us all about the numerous rattlesnakes, copperheads, and bears in the area. We were excited and also beginning to feel a bit nervous.
Joe spent a lot of time on the internet looking up what to do for snake bites. First, nothing works. Not tourniquets, not sucking out the venom, not carving a hole in someone's leg. Oh, and your cell phone will also probably not work. So the victim's only option is to not move and wait for her partner to hike back to civilization while she gets eaten by bears. Life is a moot point if you get bitten by a poisonous snake in the middle of nowhere. Evidently. (If you're an expert on poisonous snake bites or have survived one, please give us the "how to" in the comments.)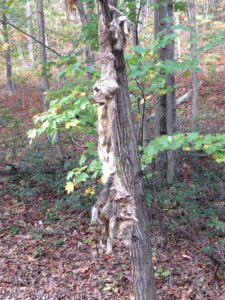 In the morning, after a gigantic breakfast from our hosts, we packed our lunches, filled water bottles, and headed out. The nice thing about High Laurel Inn is that it sits just steps from the start of the trails. We began at the park boundary near the foot of the mountain, hiked up Paine Run to the Trayfoot Mountain Overlook, across the AT to the Blackrock Summit, and then back down to where we started via the Trayfoot Mountain trail. This is the longest I've hiked, which some might laugh at, but it's a pretty big deal to someone with chronic compartment syndrome (another story for another time).
On the way over to the starting line, we saw a skinned something or other (maybe coyote) hanging from a tree by the road. If anyone has any idea why someone would do that, please comment below. It makes for an eerie start. Maybe a half mile in, I realized I had left my water bottle at the room, but we decided to keep going with just one bottle. In hindsight, not a good idea at all.
The hike up Paine Run was uneventful. Yet there were reminders everywhere, in the form of fresh bear scat, that we were out of our element. We only passed two people before reaching the top. We sat at the Trayfoot Mountain Overlook and enjoyed lunch and the break after our climb. I was starting to relax and enjoy being outside.
I LOVE hiking. This time I was nervous about being so far from anyone who could help us if we got in trouble, and I missed my water bottle and cell phone service. The most populated parts of our hike occurred near the top of the mountain by Skyline Drive, which is not unusual. Bill Bryson talks about how most of us like the idea of woods, but don't stray too far into them in A Walk in the Woods. (Side note: It took me way too long to read this humorous book about hiking the Appalachian Trail.)
At the top, a clear sign announced the presence of copperheads on Blackrock Summit. Yet what were the chances we would actually see one? We chatted with a family who had just happily crawled on the rocks, and I have been hiking on rocks on the AT my whole life without ever seeing a copperhead.
The view at the overlook was breathtaking. I was slightly ahead of Joe and walking through the rocks when I turned around to see him bent over face to snout with a small copperhead. Those things are hard to see! The understated creature wasn't interested in moving away from Joe. I told him what he was looking at and asked him to back away. We both suddenly realized that in order to keep going forward on our journey, we still had to hike by an indeterminable amount of rocks. I was paralyzed with fear. We could go back past the copperhead and back the way we had come, which was pretty but not the most interesting hike. Or we could keep going forward and hope that we would pass through the rocks quickly. We moved forward with sticks, poking ahead of us as we tested for slithering beings. Just as we entered the woods again, we came upon a group of hikers that included a guy who was way too enthusiastic about us seeing a snake. But. it. was. poisonous. His buddy behind him got the message.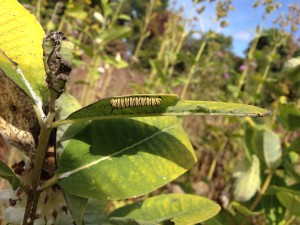 And then that was it, almost. We didn't see another human for the rest of the trail. Miles and miles of wilderness trekked by two nervous nellies. About two miles from the end of the hike, we heard a growl. A low, mean, get the nuts out of my territory growl. Joe's instinct was to stop and push me back the way we had come. But at this point our choices were to move forward towards the growl and finish the two miles left or go back eight miles past the rocks and snakes and all the hidden bears that ignored us the first time. Not to mention we lacked water.
One way or another, we had both had it with our fear and either a bear or the end of the trail was going to put us out of our misery. Whichever came first.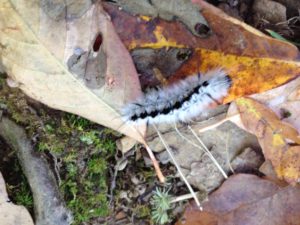 So you know we survived because I'm writing this post. We have no idea what made the growling sound. I did learn after the hike that black bears don't actually growl. They make all kinds of other sounds, but they don't growl like in the movies. My aunt who spends a lot of the year in the Alaskan rainforest confirmed that a growl is in the ear of the beholder and that we may have certainly heard a bear. After recently reading A Walk in the Woods, I'm wondering if we heard the elusive mountain lion. Or maybe it was just two big old trees rubbing together in the wind.
I felt a shift in my hiking mood during this outing. While absolutely nothing happened to us, I am suddenly aware of the could haves. I now ask everyone who goes hiking if they've seen a bear or a snake. I'm collecting survival stories. We weren't exactly prepared for our hike, given its remoteness. Our future hikes in more populated areas will help me relax back into my love for nature and escaping to the wilderness. Sugarloaf anyone?
All this said, for those that like adventure and prefer remoteness, the Trayfoot Mountain hike is beautiful. And I highly recommend High Laurel Inn for a nice weekend getaway. In the end, the best view we saw all day was from their front porch.






by