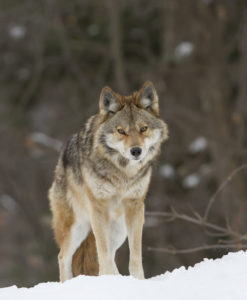 On my way home from a long work day, with the hours getting darker, the humid air still hung itself like a damp coat over the end of September.
As I walked towards the woods at the end of my street, I took in the darkness and wondered why no one on our ever-dissatisfied listserve has complained about the lack of street lights.
Ahead of me, I could barely make out the silhouette of a woman walking her two small dogs and hoped she could see my own outline so I didn't surprise her. But something else was about. Just as we met up, we both heard the howl at the same time and her two dogs started barking. "Did you hear that?" "Uh, yes." "Coyote. My husband told me he's been seeing them around."
For newcomers to DC who may think that the most exotic creatures we have here are interns, coyotes have lived in this city since 2004, according to the National Park Service FAQ page about the elusive creatures. Read Jacob Fenston's article for WAMU, "Why Does A City As Dense As D.C. Have So Much Wildlife?," to learn how our regional park corridors provide habitats and access to our backyards for our furrier neighbors.
I like telling people that there are coyotes in Washington. Maybe talking about coyotes could help remove the myth that DC is all stuffed suits and type A women wearing Ann T. You already know I'm here for the parks.
Not counting the occasional tropical bird that gets blown off course and ends up in New England or pet pythons released in Florida plumbing, there must be animals living in other cities and places that only appear to be interlopers.
Some friends of mine who moved from Capitol Hill to a cabin in rural Kentucky told me my favorite story of surprising residents. The Southern Devil Scorpions live in rural Kentucky. In the woods. And your shoes. These scorpions do sting but aren't interested in people and not dangerous.
Please let me know in the comments what animals and insects you are most surprised to see where you live or have visited. Now back to the coyotes in DC.
How likely are you to see one?
The answer to this is you might see one while in and around Rock Creek Park and some of the adjacent neighborhoods, but it isn't likely. The population appears to be small, and coyotes are most active in the evenings and at night.
And I know the burning question that is on our minds is: What do coyotes eat for dinner?
Coyotes eat dead things, vegetation, and small critters in the park. You're safe, but keep an eye on your pets. It's best if taking your animals on hikes through the park or near the park, that you keep them leashed. It's the law anyways, though I witness it often ignored especially in the parks. (And normally I wouldn't care because I love your animals as much as you do, except that someone's very lovely, playful Goldie once yanked me off my fast-moving bike by my ankle. I've since forgiven the pup but not his people.)
Fake news alert: Coyote wolf hybrids do not exist in Rock Creek Park. It takes two to tangle and without a wolf population, well, you just get more coyotes.
If you see a coyote: According to the National Park Service, notify Resource Management Specialist Ken Ferebee at 202-895-6221. Let Ken know the date, time and location you saw the animal.






by